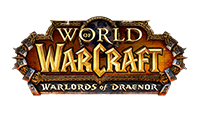 Comme annoncé plus tôt la semaine dernière, avec le surplus des dons récoltés, je peux organiser un concours pour gagner une édition digitale de Warlords of Draenor !
Certes Blizzard n'a pas encore annoncé une possible date de Bêta et encore moins une date de commercialisation mais vous pouvez prendre un peu d'avance avec ce concours. Vous recevrez un code du jeu dès l'ouverture des précommandes. Afin que tout le monde ait sa chance et le temps que le Blog se remette sur pied, le concours durera 3 semaines. Vous pouvez retrouver toutes les informations de l'extension sur le site officiel de World of Warcraft: Warlords of Draenor.
Tu vas recevoir très bientôt un message privée sur le forum. Merci à tous d'avoir participé au concours ! On se retrouve très bientôt pour un nouveau concours !
Comment participer ?
Il vous suffit de répondre à cet article en laissant un commentaire
Une seule participation par foyer
Vous devez posséder un compte Battle.net US ou EU
Le concours se termine le 26 janvier à 20h00