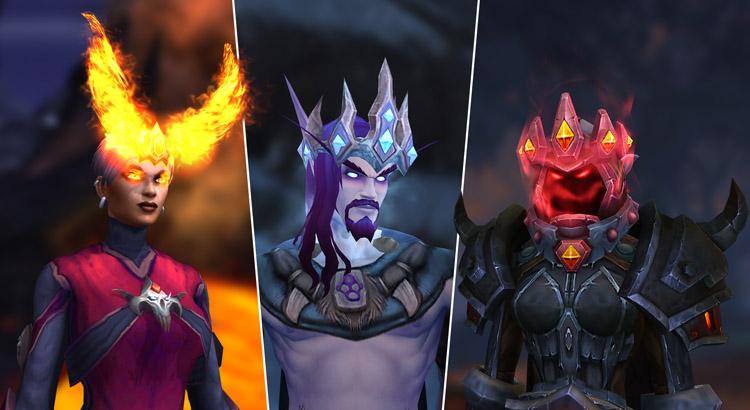 Amazon Prime Gaming : récupérez 3 transmogrifications de tête
---
Biggs, un lecteur du blog vient de me contacter pour m'informer qu'Amazon Prime Gaming en collaboration avec Blizzard offrait 3 transmogrifications de tête.
Ces casques ont initialement été mis en vente en juillet 2013 dans la boutique Battle.net au prix de 15€ pièce. En 2019, Blizzard a décidé de les retirer de la vente avec d'autres montures et mascottes. Le studio précisait bien à l'époque que ces objets étaient susceptibles de revenir ultérieurement.
Récupérer les 3 casques de prestige
Vous devez avoir un compte Amazon Prime et le lier à votre compte Battle.net. Vous pouvez vous rendre sur cette page pour suivre la procédure de récupération des lots. Une FAQ est également à votre disposition pour répondre aux interrogations les plus courantes.
Pour le moment seul le Joyau du seigneur de Feu est disponible. Suivrons le Chaperon des ténèbres affamées en juillet et la Couronne de l'hiver éternel en août. Espérons que ces lots soient les premiers d'une longue liste !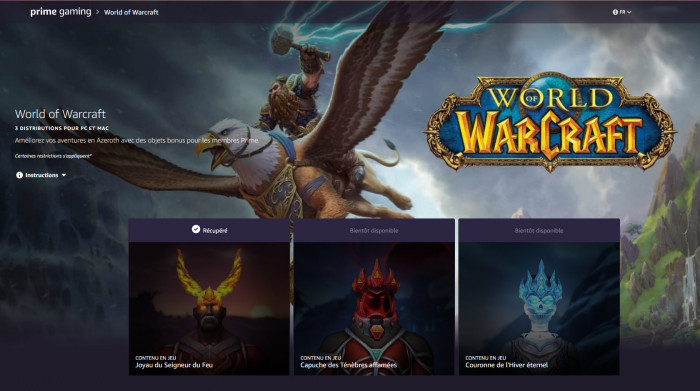 Loot WoW pour les membres Prime Gaming
Par
Blizzard
---
We're teaming up with Amazon Prime Gaming for a special offer*! For a limited time, Prime Gaming subscribers can get up to three transmog helms for World of Warcraft** returning straight from the Blizzard Archive—the blazing Jewel of the Firelord, the somber Hood of Hungering Darkness, and the frosty Crown of Eternal Winter.
Starting today until July 26, Prime Gaming members can heat things up when they claim the blazing Jewel of the Firelord.
---
Not a Prime Gaming member? Click here to activate your account or start a FREE 30-day trial!
Offer #1 – Jewel of the Firelord
Claim by July 26, 2022 to receive this transmog helm.
Offer #2 – Hood of Hungering Darkness
Available July 27. Claim by August 23 to receive this transmog helm.
Offer #3 – Crown of the Eternal Winter
Available August 24. Claim by September 20, 2022 to receive this transmog helm.
Once you claim an offer, log in to World of Warcraft and visit your favorite transmogrifier in any major city (like Warpweaver Dushar in Orgrimmar or Warpweaver Hashom in Stormwind). Look for your new helm transmogs in the Appearances tab of your Collection, then apply your freshly obtained helm look to your character.
---
HOW TO CLAIM YOUR REWARDS
Become a Prime Gaming Member:
If you don't already have a Twitch account, create one here.
If you don't already have a Prime account, sign up for a FREE trial.
Connect your Twitch account to your Prime account here.
Link Your Blizzard and Twitch Accounts:
Log in to your Twitch account.
If you don't already have a Blizzard account, create one here.
Navigate to the Twitch Connections page in the Settings menu.
Locate the Blizzard Battle.net section and chose your gameplay region.
Log in to the Blizzard account you wish to link and click Log in to Blizzard.
Claim Your Prime Gaming Offer:
Visit the Prime Gaming Rewards page for World of Warcraft.
Log in to your Prime Gaming account and authorize.
Verify your linked Blizzard account and click Claim Your Loot.
Success! You are ready to redeem your items in-game.
Redeem Your Rewards:
Launch the Blizzard Battle.net desktop app.
Log in to your linked Blizzard account.
Launch World of Warcraft.
Visit a transmog vendor which can be found in any capital city.
Before linking your Twitch and Blizzard accounts, check to see that you're not logged in to any other Blizzard accounts at the same time in the same browser, as this could cause complications. For the best results, complete the process in « private browsing » or « incognito » mode.
Once you claim a Prime Gaming reward for World of Warcraft, and if you remain an active Prime Gaming member, all future rewards in the campaign will be automatically applied to the same Blizzard account and cannot be transferred. Be sure that your preferred Blizzard account is connected to your Twitch account at the time of enrolling!
Need more info? Click here to visit the Twitch Prime FAQ for more details.
---
*Offer only available where Twitch Prime is available.
**Transmog helms not available in WoW: Classic, Burning Crusade Classic or Season of Mastery.